DLR Conference Center: Due to a fire in the conference center where PyData Cologne was to be held, the event has been cancelled.
DLR has its headquarters in Cologne-Wahnheide. The site is located next to Cologne-Bonn airport. Approximately 1,500 employees work in the institutes and facilities and in the central administration. The PyData program will take place in the modern conference rooms of the "Casino".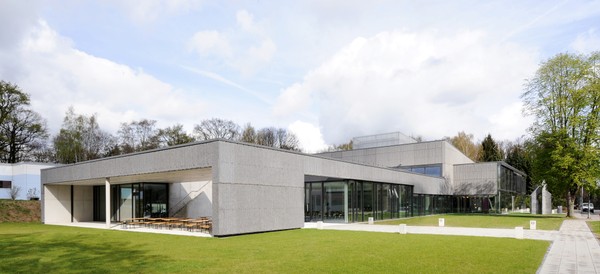 German Aerospace Center (DLR) DLR Cologne, Headquarters Linder Höhe 51147 Cologne Telephone: +49 2203 601-0 Fax: +49 2203 673-10 Internet: www.dlr.de
How to reach the location
By local trains "S-Bahn": S 12 or S 13 leave from Cologne main station and Hansaring. The local train S13 also leaves from Koeln Bonn Airport. There is a train every 10 minutes. Stop: "Porz-Wahn" and continue from there by KVB bus line 162, direction "DLR" and get off there, too.
By taxi: Upon arrival at Cologne main station take a taxi to "Porz-Wahnheide, DLR". It should not exceed 40 Euros.
By plane: Upon arrival at Koeln Bonn Airport there are two possibilities: Take a taxi to "DLR in Porz-Wahnheide". It will take approximately 5 minutes. Or take the local train "S-Bahn" S 13 direction "Troisdorf" from the railway station "Köln/Bonn Flughafen", which is located in the basement of the airport, to the station "Porz-Wahn" which is your first stop after boarding the train. Continue from there by KVB bus line 162, direction "DLR" and get off there, too.
By car: There is a parking space in front of the main entry gate of DLR.